healthy mac & cheese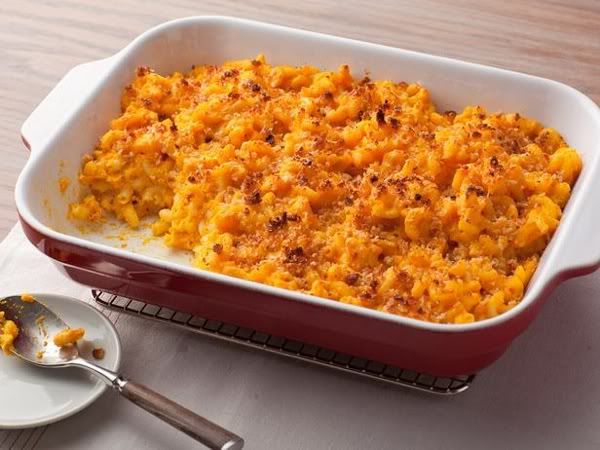 i felt it was only fair and right to post a healthy alternative to martha's amazing artery clogging cheese fest. i've made this a few times and you would never know there was pureed winter squash in it!
SERVES: 8
Ingredients
Cooking spray
1 pound elbow macaroni
2 (10-ounce) packages frozen pureed winter squash
2 cups 1 percent lowfat milk
4 ounces extra-sharp Cheddar, grated (about 1 1/3 cups)
2 ounces Monterrey Jack cheese, grated (about 2/3 cup)
1/2 cup part-skim ricotta cheese
1 teaspoon salt
1 teaspoon powdered mustard
1/8 teaspoon cayenne pepper
2 tablespoons unseasoned bread crumbs
2 tablespoons grated Parmesan
Directions
Preheat the oven to 375 degrees F. Coat a 9 by 13-inch baking pan with cooking spray.
Bring a large pot of water to a boil. Add the macaroni and cook until tender but firm, about 5 to 8 minutes. Drain and transfer to a large bowl.
Meanwhile, place the frozen squash and milk into a large saucepan and cook over a low heat, stirring occasionally and breaking up the squash with a spoon until it is defrosted. Turn the heat up to medium and cook until the mixture is almost simmering, stirring occasionally. Remove the pan from heat and stir in the Cheddar, jack cheese, ricotta cheese, salt, mustard and cayenne pepper. Pour cheese mixture over the macaroni and stir to combine. Transfer the macaroni and cheese to the baking dish.
Combine bread crumbs,  Parmesan cheese and oil in a small bowl. Sprinkle over the top of the macaroni and cheese. Bake for 20 minutes, then broil for 3 minutes so the top is crisp and nicely browned.